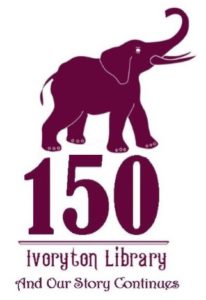 Our year of celebration has been pandemically reduced to
August -November 2021.
Time Capsule Dedication at the Ivoryton Library
Saturday, August 14 (Rain Date: 8/15)
Join us at 3:00pm in the Library's backyard Garden for refreshments and speeches before we lower the time capsule into the ground.
Tuesday, September 8
Tickets on sale now for an evening of paint, refreshments and fun.
Wine raffle, as well!
Tickets are $40 and available at the Library
or call 860-767-1252
POSTPONED: Birthday Gala at Essex Steam Train
Friday, October 1
Honorary Master of Ceremonies:
Todd Ellison
Featured speakers:
Journalist Susan Campbell
and
novelist Susan Strecker
Murder Mystery Dinner at Copper Beech Inn
This is the immersive murder mystery event you have been dying to attend!
All guests become sleuths at the scene of the crime. You will look at evidence and bribe characters for clues to figure out exactly who did it. And you get dinner at the Copper Beech, as well! Oooh, and a Silent Auction!
Saturday, November 6
We're looking for 150 people to donate $150 for our 15oth Anniversary Endowment Fund!
Will you be one of them? Help the library serve the community for another 150 years!
50 X 150 READING CHALLENGE
Congratulations to our 50 x 150 Reading Challenge Grand Prize winner: Cheryl Harger!
Our 150th celebration is sponsored in part by