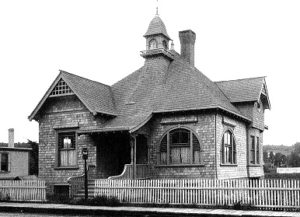 Ivoryton Library History
(Our Local History inventories are available for viewing online: click here.)
Organized in 1871 and built in l889, the Ivoryton Library has functioned continuously for over 140 years and remains one of the few housed in its original structure within the State of Connecticut. The library's history has great significance for the village of Ivoryton, as much of its present landscape and environment is due to the unique ivory-cutting industry that flourished here during the nineteenth and twentieth centuries.
Placed perfectly in the center of this once factory village, the library was built in part with funds from the nearby ivory factory, Comstock, Cheney & Co. It is difficult to imagine that Ivoryton was at one time the center of the ivory cutting trade in the United States. A photographic exhibit of the Comstock Cheney ivory trade resides in the library as part of a permanent collection. Currently there are 9,000 books and other items on the shelves of the library, including archives on the library history, the ivory trade and local history.
The history of the Village of Ivoryton, both rich and complex, has been studied all over the world. Two articles below, authored by town historian Don Malcarne, explore our unique legacy. For a more in-depth look, the library offers historical publications for sale. Contact us to inquire.
Historical Gallery